Help
Printed in Guernsey - PIGSY for short - is here to make life easier for islanders when ordering smaller printed items. The process is all performed online and as much of this system is automated it is cheaper to produce and we pass on the savings. Note: If you United Kingdom as your country you will be charged VAT and Shipping.
1) Enter a few details about yourself
We need to know your email address to keep you updated (we do not use it for any marketing) and your address for delivery. You will need to register once and then your account will be open - you can then save artwork and quotes. You can also see your order history for reprints at a later date.
2) Select your product
Each product has a few options, please read the instructions carefully. Select different quantities and the price changes immediately.
Uploading PDF Artwork
Your artwork must be at the correct size and include 2mm bleed - we ONLY accept high resolution PDF files. If you are using Adobe products like InDesign or Photoshop aways save as PDF X-1a or at least 'Press Quality' . More recent versions of Microsoft Word include the option to save as PDF file - we can use a PDF file produced in this way but cannot guarantee the best results.
See our main site for Artwork Guidelines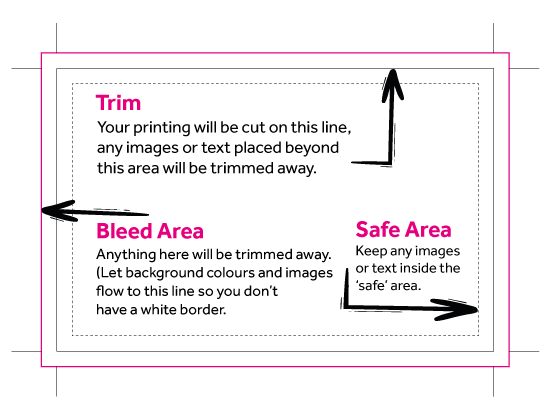 Can I get a proof of my design?
You can click 'Preview' to see an online preview of your work. We currently don't offer a sample of your order though we do check each job to guarantee everything is OK with the file. If we find anything that needs changing, we will contact you before printing.
I want to upload a jpeg file instead
If you have a jpeg (or other) file then select 'Design Online' and upload it to your gallery. You can then upload the file onto the canvas
Delivery
Delivery is FREE in the Bailiwick of Guernsey. All deliveries are via Guernsey Post.
Can I make sure colour prints the way I want it?
Colour on your screen and on a printed page may look different as screens are backlit while paper reflects colour. If the tone of the colour is critical, contact us and we'll do our best to get the result you want.
Best way to make "Bleed"
If you are working on, say, A5 which is 210mm x 148mm - you need to make your artwork 214mm x 152mm (this allows 2mm to be cut off all round)
Should you need any printed items not featured here (brochures, books, printed clothing for example) please contact us at theteam@printed.gg for a free quote
It says there is a resolution issue with my image?
If you have selected any photo or image straight off the internet, it will be 72 dpi which is no good for nice sharp printing. An image straight from your phone should be good enough. There are many resources out there for nice high res images - Canva is a good place to start or pexels.com looks pretty good too.